Having two active dogs means I'm always being asked to play ball whether at home or on a dog walk, the youngest one is obsessed and I'll always find a ball in my lap whilst trying to watch TV!  I tend to stick to the basic yellow tennis balls but have recently been splashing out on more expensive ones as they do seem to last longer from the constant squeezing they're faced with.
The dogs were recently sent a box of Chuckit! Max Glow goodies which I held off given till Christmas so they had something to open with the rest of us!  Chuckit! is a brand which specialises in glow in the dark toys and with dark winters nights they are essential if you're taking your dogs for a walk and they still want to play fetch.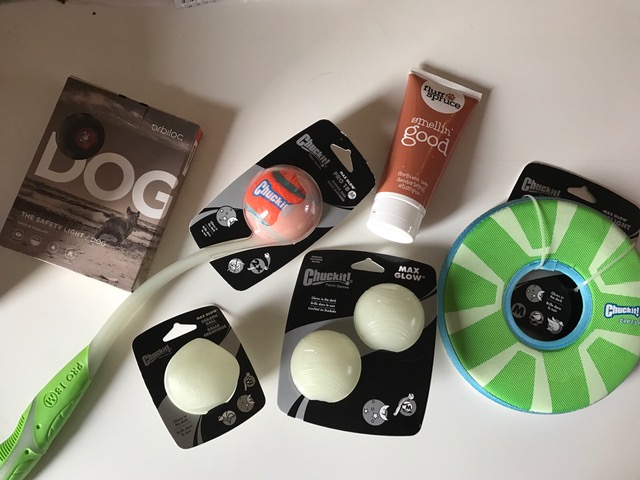 Some of the things which were included were:
Chuckit! Pro Translucent Launcher – Pro 18
"Throw farther, faster, and never bend down to pick up a slimy ball again with the Chuckit! Pro Launcher. Durable plastic Launcher firmly grasps a ball then releases it as you swing. Picks up balls tossed into mud or water during games of fetch. High performance ergonomic grip handle. No-slobber, hands-free pick up. Glow in the dark handle."
This has been by the far the most used item we received, I'm rubbish at throwing a ball and normally the dog has ran too far by the time I've thrown it and has to run back to get it!  I really like the shorter length too as I've had a cheap version of launchers before and they're quite a faff trying to hold whilst also holding two leads.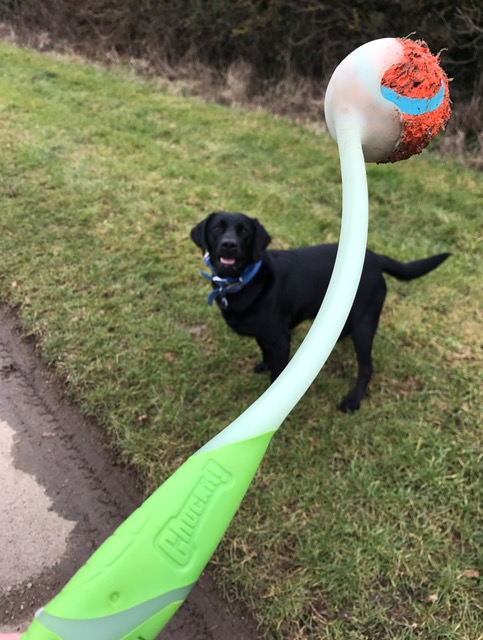 Chuckit! Max Glow Ball
"Durable rubber ball glows in the dark to allow the game to keep going when the sun goes down. Gripable rubber ball made just the right size to use with Chuckit! Launchers."
These are a big hit, but Monty has put in a request that they be squeaky next time!
Chuckit! Max Glow Erratic Ball
"This durable geometrically shaped rubber ball bounces erratically for added enjoyment and glows in the dark to allow your games of fetch to keep going even when the sun goes down."
This certainly keeps the dogs on their feet, this ball also fits in the launcher although I haven't tried this as yet.
Chuckit! Zipflight medium
"On land and in the water the Zipflight amphibious flying ring is designed for exceptional visibility and performance. Soft yet hardwearing with rubber rim and liner for extra grip and strength. Glow in the dark rim and insets."
This is favoured by Poppy as she's too slow to catch the ball compared to Monty!
Additional items we received was a flashing collar tag which is a sensible idea for a dog to wear at night walks and even more so if you let them off lead so you can spot them!  The shampoo is an essential item of any dog owner particularly at this time of year when it's so muddy everywhere you go and especially if you have dogs that love to go ditch diving like mine do!
What makes Chuckit! toys worth the money is the durability and quality, when something lasts the jaws of 2 Labradors I'm more than happy to pay that little bit more!
*I was sent a hamper of Chuckit! toys for the purpose of this review, all opinions are my own.