I'm often asked by people about the charity I go on trips with and help raise money for, here's a  little bit about the charity Climb Your Mountain (CYM).
Set up by Charlie Wardle in 2008, He founded CYM following a difficult and stressful period in his life which resulted in a period of depression. Charlie found that focusing on physical exercise and challenges gave him the strength to cope with his situation and move on.
Recognising that many people would not know about the true benefits of exercise, or maybe find it difficult to motivate themselves because of their own circumstances the charity was set up to offer support, training, motivation, advice and provide opportunities. The Charity was established to support people with their own personal mountains to climb by giving them the opportunity to meet others and take part in exercise and physical challenges.
The charity is based in Milton Keynes and offers many local free activities in that area, but it's not restricted to there.  There's plenty of chances for people who live a little further away to get involved.  This can be on one of the many weekend trips to a UK mountain or on one of the bigger overseas challenges like Kilimanjaro or Everest Base Camp (fee required on these trips).
CYM offers a free course that covers many topics relating to health & wellbeing with a particular focus on stress & depression.
The course is very relaxed, friendly and informal and again open to anybody.
And also, they're able to offer a free one-one informal meet up where people can discuss issues in confidence and they can hopefully offer some practical advice, support and information. This is usually for those people who are experiencing stress, depression, anxiety or low confidence.
How did I become involved with CYM?
I actually got involved via a friend who started helping with the charity 4-5 years ago, he had been to Kilimanjaro in 2010 with CYM and then agreed to help lead a new team in February 2011.  He came round for dinner one evening and was talking about his own experience on Kili, I knew then that I wanted to do it and join him on the next trip.  In preparation for Kilimanjaro, I joined a couple of weekend trips to Snowdon to get some hill walking practice in.  Knowing very few people and putting myself into unfamiliar surroundings is completely out of my comfort zone, but I quickly found that I needn't have been worried, everyone was friendly and welcoming and the weekends have been a great experience in both summitting a mountain and meeting and talking to new people!  After Kili, I admittedly lost touch with the charity for a while, I guess normal life takes over and before I knew it a year or so had passed.  However, thanks to Facebook, I did still have access to what was going on in the charity etc…hence why I'm now signed up to do Everest Base Camp in October 2013!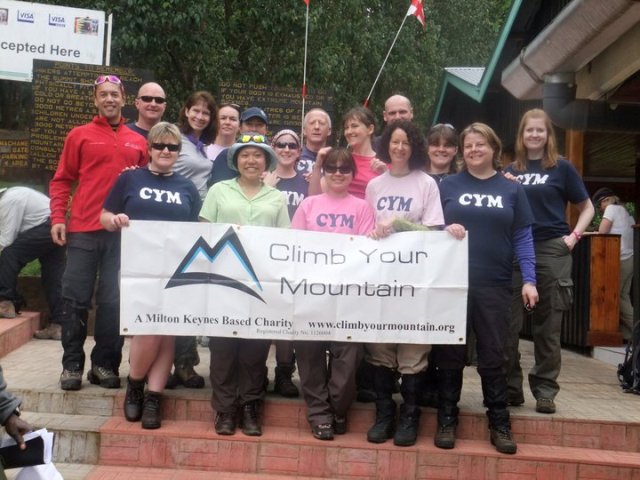 Like I said anyone can take part in these challenges put on by Climb Your Mountain and I whole heartedly recommend any of the trips.  There's something special about doing a challenge with say 14 other people who are all there helping the same charity…I certainly wouldn't have had the same experience if I had done a private trip to Kilimanjaro, in fact I probably wouldn't have even done Kilimanjaro if it wasn't for the charity!
Here's a list of overseas trips on offer:
Kilimanjaro
Everest Base Camp
Great Wall of China Trek
The Inca Trail (Machu Picchu)
Mount Toubkal (Winter & Summer)
Grand Canyon
Snowdon
Ben Nevis
Scafell Pike
Yorkshire 3 peaks
National 3 peaks
More details are on the Climb Your Mountain website: http://www.climbyourmountain.org/, Facebook and Twitter
So go on, do something amazing and help a charity in the process!