Summer = allergies for many dogs and much like humans they can react in many different ways, but most commonly you'll find that they get itchy skin and as a human I can think of nothing worse than being itchy the whole time….but put yourself in your dogs paws and imagine how irritating it could be for them!
In many cases dogs will need to rely on medication from vets to help them through this tough time, but in some cases giving them a supplement in their diet could well be enough to combat the itch also. Natural pet health company Lintbells have created an oil called YuMega Itchy Dog, which you simply add to the dogs food daily and it can be used on its own or in conjunction with medication too.
YuMEGA Itchy Dog contains essential Omega 3 and 6 oils which help your dog cope with itching triggers, helping them stop scratching and feel more comfortable.  In fact, even if your dog doesn't even get itchy skin you might find that the oils will help your dogs skin and coat health.
With the help of Lintbells here are 10 things to do to help reduce your dog's itch:
Do make an appointment to see your vet if your dog has an itch – broken skin can become infected with bacteria, yeasts or fungi and the more your dog scratches the more damage they can do.
Do wipe your dog down using the microfiber cloth after they have been outdoors to reduce exposure to allergens that have attached to the coat.
Do talk to your vet about regular flea treatment – many skin cases are associated with fleas and they may not always be visible as they can jump on and off your dog.
Do use YuMEGA Itchy Dog to support skin health – simply add YuMEGA Itchy Dog to your dog's food
Do feed a good quality diet but be aware that some omega oils are easily damaged during processing and storage of food and giving a high quality supplement such as YuMEGA Itchy Dog is the only reliable way to ensure you give enough.
Dogs can experience allergies to inhaled substances like dust mites indoors and pollens outdoors and some are sensitive to certain foods. Do talk to your vet if you think your dog could have a food allergy – it's not enough to switch flavours, varieties or even brands. Some dogs with food allergies get itchy ears and no other signs.
Do not ignore the problem hoping it will get better – sometimes dogs can be allergic to one allergen but eventually become allergic to multiple allergens and seasonal allergies can eventually become year round problems.
Do keep an itch diary – recording when the itch got worse and anything that happened around that time.
Do bath your itchy dog frequently with a good quality dog shampoo recommended by your vet to help remove allergens from your dog's coat. Don't use human shampoos on your dog as they are formulated for human skin which has a different level of acidity compared to dog's skin.
Do wash bedding using soap flakes rather than washing powder. Washing at high temperatures also removes dust mites. Toys that can't be washed can be popped in the freezer in a plastic bag to kill off dust mites.
As you can see from the picture alongside my very own model (Monty) we enjoyed our very own hamper which includes YuMEGA Itchy Dog oil and many other treats.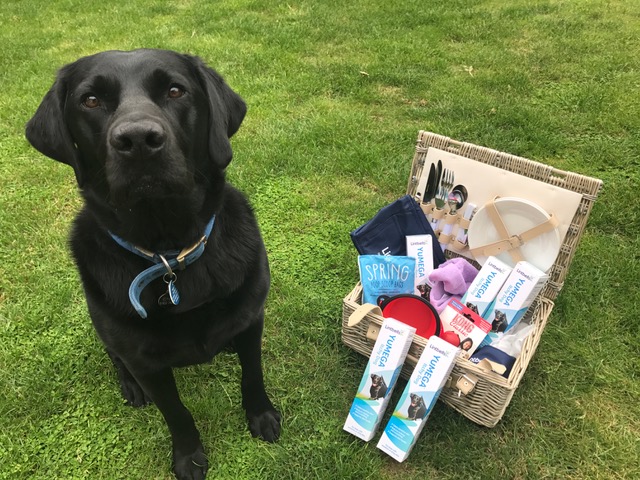 If you would like to have your own Lintbells Pupnic, just fill in the form below for the chance of winning a Pupnic hamper and 5 x 250 ml YuMEGA Itchy Dog bottles (retails at £18.40 per pack).  The competition will close on the 17th of July.
Win a Lintbells Pupnic Hamper & 5 x 250 ml bottles of YuMEGA Itchy Dog