Ever wondered how it feels to walk over 450 / 500 degrees celsius in your bare feet?  I experienced this just last night as I completed a fire walk challenge for charity.
The evening started off with an hour long 'Impossible is Nothing seminar, hosted by the fire walk team – Survivorbility.  It focused on psychological responses to extreme challenges and how you can overcome the fear you may have in certain situations.  It was an informative seminar but I'll admit that these types of seminars are my fear, team building exercises for me are just awful.  However, it was relatively painless and it was pretty funny and I can definitely see how this can help people who were nervous about the challenge of completing the fire walk.
We signed a disclaimer that ensured we knew the risks that fire walking may cause and then we went onto how to do the fire walk, this was when the excitement kicked in.  The Fire Master demonstrated a few steps that each individual must undertake to successfully walk the fire walk, the steps are:
Remove shoes (obviously!)
Roll up trousers (you don't want to be catching fire after all)
Wipe feet on the turf in front of the fire walk (this is to remove any stones etc that can potentially cause burns)
Are you ready to walk?  mentally preparing yourself for what may be about to happen.
Walk the fire walk at a brisk pace…if you start to move into a run you're much more likely to burn your feet, but at the same time, move too slowly then the risk of burns is higher as your foot is touching the hot embers for longer periods.
Once complete, wipe your feet again (this is to remove any embers that have stuck to your feet)
Go for a dip…placing your feet into cold buckets of water at the end to cool your feet quickly.
So with the demonstration in the room completed, you then head out to where the fire has been burning away.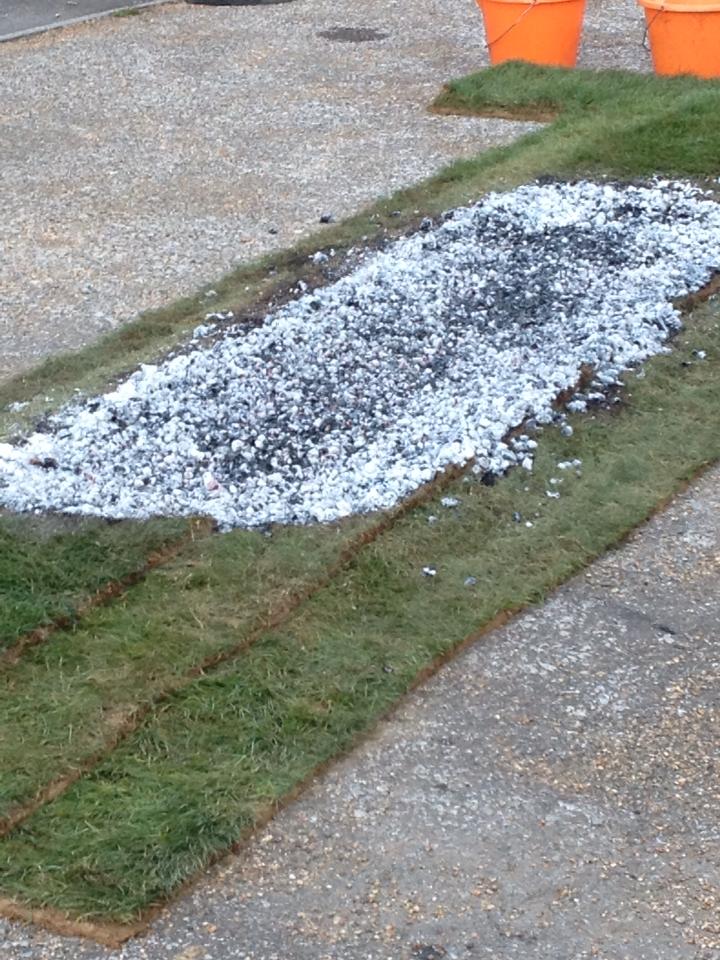 After some more safety checks and that the fire isn't too hot, the Fire Master proceeds with the first fire walk of the evening…once he's happy that it's the right temperature, somewhere between 450-500 degrees celsius, it's our turn!
One by one each member took their turn, most completed without a flinch, although some did feel that they caught their feet on hotter spots and felt a slight burning.  I was almost last to go…
Stepping up to the fire, there was nerves, of course there was, the not knowing of how it would feel, would I injure my feet etc…all these things run through your head before hand, but looking past the hot embers, taking one last breath and stepping onto the walk, adrenaline kicks in and you quickly walk over…forgetting to wipe your feet at the end and just heading straight to the water!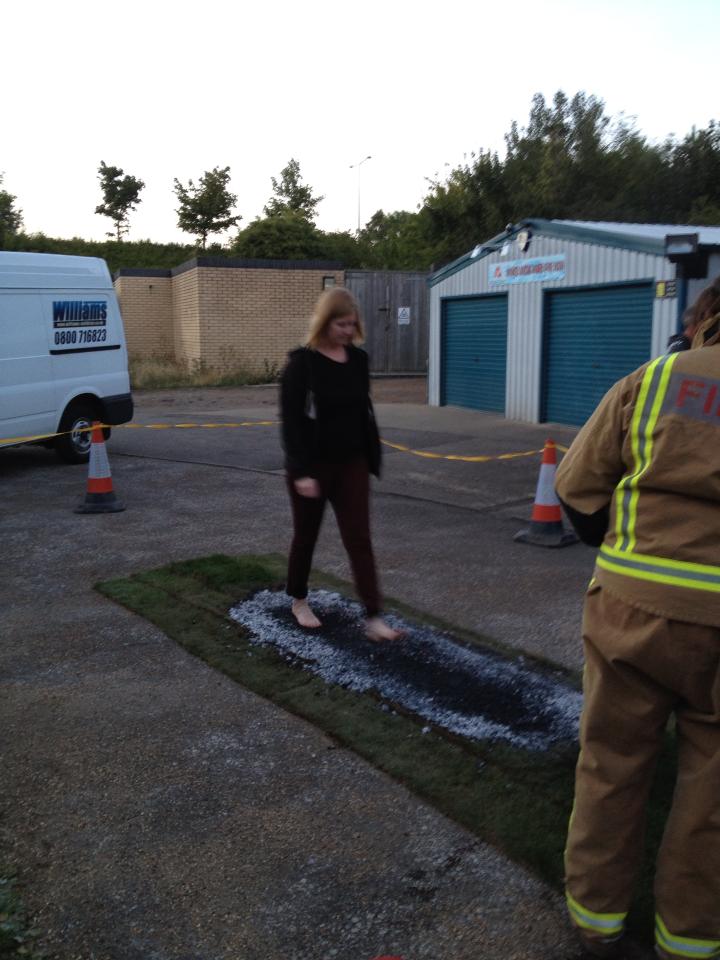 I DID IT!!
Then I did it again and again!
The first and second time I didn't really get much heat sensation on my feet, yet the 3rd time when the fire bed had dropped in temperature to around 150, I managed to catch an ember that must have been sticking up (or I placed my foot oddly) and I felt a hot point on the arch of my foot.  Thankfully it stopped pretty much straight away, but I was left with an odd tingling sensation on my feet for the rest of the evening.  If you watch the below video, this is the whole team walking the fire walk, I'm on at around 3:38 🙂
And then that was it, the fire walk was over, we were given certificates and on we went!  Happy and with a sense of achievement 🙂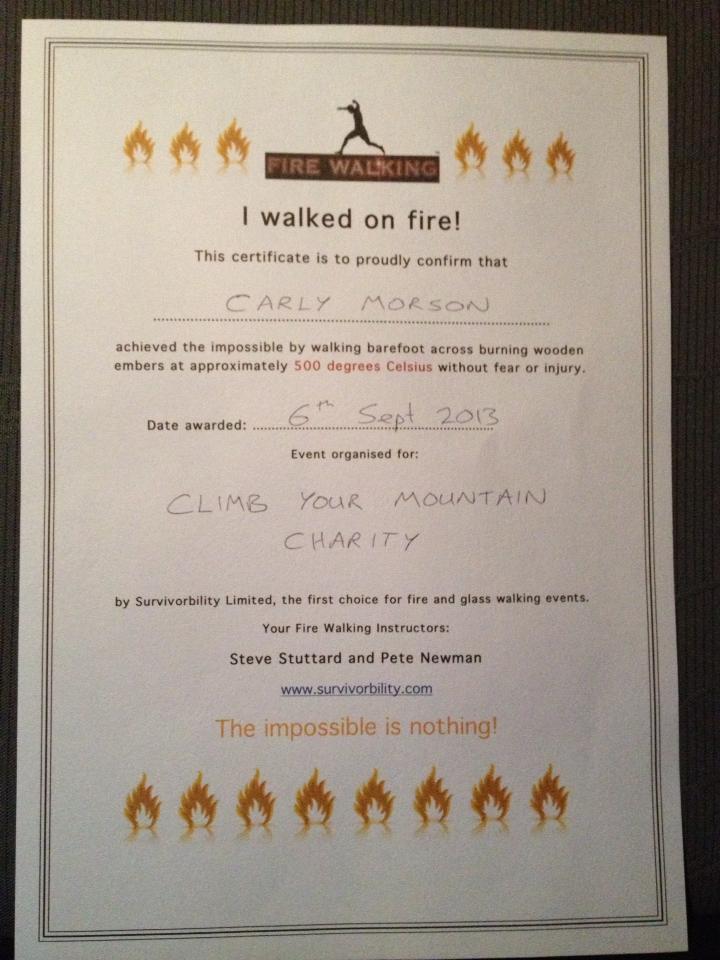 Have you ever done a fire walk or something similar?