On Saturday, me and my Husband took the kids to London for their very first outing in the big city.  Putting aside my country girl fears of the city, mainly amount of people and losing the kids are the main ones!
The main reason for the trip was that I saw a tweet from 'self-confessed London Obsessive' Laura Porter advertising a play called 'A Complete History of London' and when I read that it's condensed into one hour and suitable for kids, I thought this could be a great way of educating the kids without them realising it!
The play wasn't due to start till 7:30pm that day, so we decided to make a day out it and show the boys some of the sights of London.  As my husband is a confident driver, we drove straight into London and saw as many things as possible, the only thing we couldn't drive round in front of was Buckingham Palace as the Mall was shut off, I assume in preparation for the London marathon the next day.
Parking the car near Trafalgar Square, we set off on foot to Hamleys…which would prove to be pretty stressful (as you can imagine!) I had childhood memories of Hamleys having 11 floors, not the 5 or 6 it actually does have and that each floor was as big as the local Toys R Us…You can imagine my disappointment when we walked in and it wasn't actually that big at all!  The boys were only interested in having a look at the Skylanders collection, which sadly wasn't all that amazing either, nothing that you couldn't find in Tescos and with no 'deals' either that you normally find in the supermarket…
We then hopped on the tube to Covent Garden to watch some street entertainment.  Whilst watching a performance, my youngest Tyler was pulled into assist the magician in his latest trick, which for a 4 year old was a pretty cool and brave thing to do!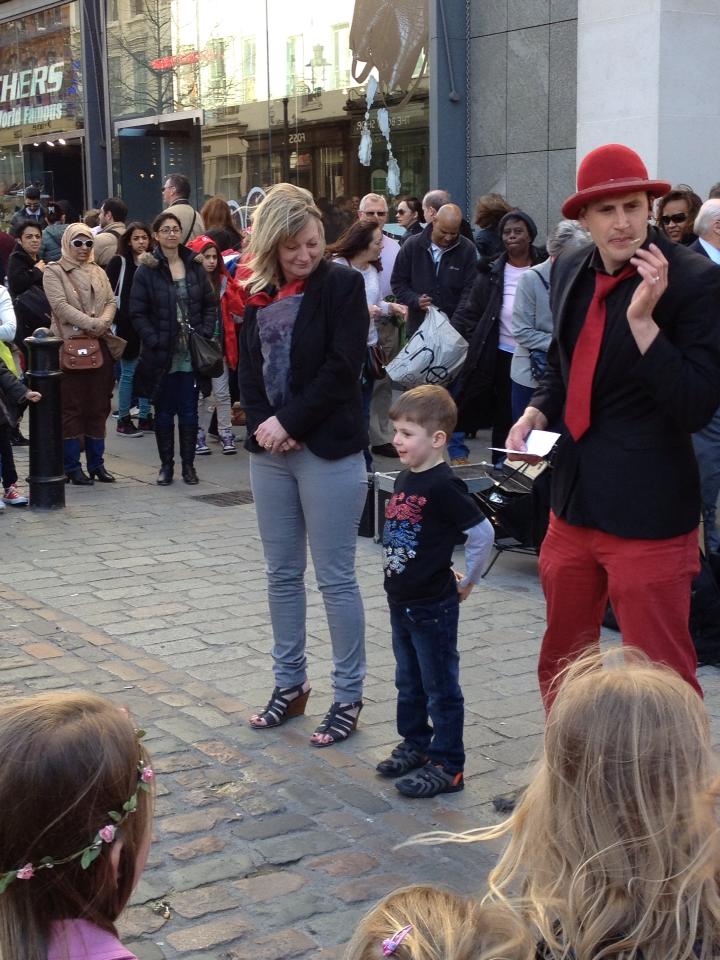 After having some dinner at a nearby restaurant, we headed back to the car (paid the hefty parking charge!) and drove to Guildhall, the play was being held in the Roman Amphitheatre.  We managed to park right next to the venue and only having to pay a few £'s (and wondering why we didn't park here the whole day!)
The play started promptly at 7:30pm, only 3 actors were in the play and between them they started off with the Romans and swiftly moved on to include the Vikings, Henry VIII, Great Fire of London and Queen Elizabeth I.  In my opinion, I learnt more in that one hour than I did at school (or at least retained!)  The eldest loved it when they spoke about things that he had learnt at school too!
It was funny, the actors were very adaptable and it was thoroughly well worth watching.
The show appears to be on in different locations, this time it was at the Roman Amphitheatre for a week, but previously was at the Draft House near the Tower Bridge.
Look out on their website / twitter account for the next upcoming shows and grab some tickets!