Recently I was invited to stay in a Glamping Pod in Alderstead Heath, Surrey which is part of the Caravan and Motorhome club.  Conveniently located off the M25 and surrounded by the Surrey Hills and within easy reach of all sorts of activities, like watersports, wildlife centres and of course the city of London.  This campsite is perfect for those wanting to get into the countryside but still have access to lots of activity.  And even though you are around 5 minutes off the busy M25 you really wouldn't know it once you're on the site.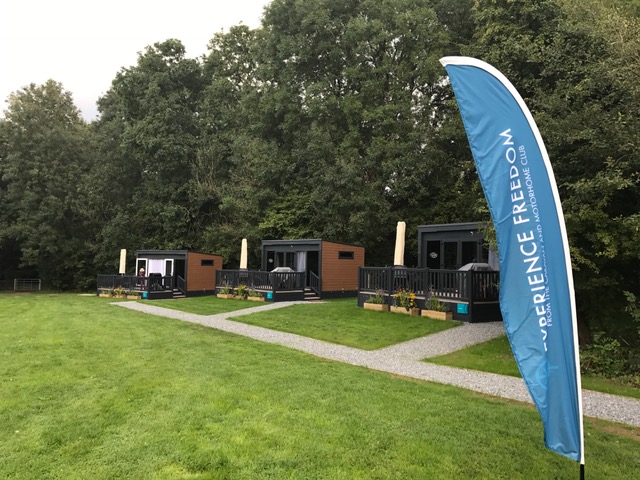 What is a Glamping Pod?
An Experience Freedom Glamping Pod is essentially a very condensed (but more fancy) static  caravan, having stayed in a few of those over the year that's how I can best describe the Glamping Pod.  However a Glamping Pod is very clever with its fixtures and fittings, and is able to squeeze the same amount that you would find in a caravan into a pod a quarter its size!
For example, when we first walked into the Pod I was perplexed as to where I was going to sleep, after a quick look around I was able to determine that there was a pull down bed over the sofa and then tada there was a double bed!

There was ample storage in the pod, plenty for a family staying for a number of days, and again being very clever with the space they were able to fit in cupboards in places all over the pod including a large storage area in the bathroom.
The kitchen area was compact and I guess this is the area where I felt most cramped, mainly when trying to wash up, there wasn't really anywhere to put your plates and cups to drain so it meant trying to do it all as you go along.  The kitchen however was nicely kitted out with essentials, including toaster, microwave and all the crockery you should need for a family of four.  You get a great little welcome pack of tea, coffee, biscuits and fresh milk along with essentials including washing up liquid and tea towel.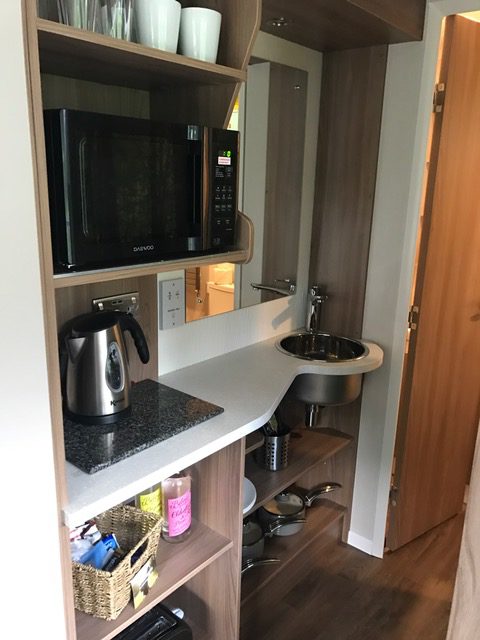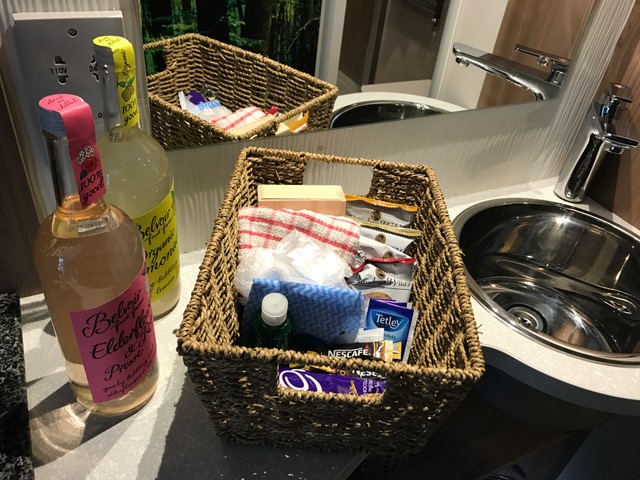 The biggest area I felt the Pod really excelled in was the bathroom, there was plenty of space here and the shower was larger than your standard size.  The bathroom also benefitted from a heated towel rail.
Although we stayed in the Pod early September, it was lovely and cozy and I think even during the colder months you'd be fine as along with the heated towel rain in the bathroom there was also a blow heater which you could switch on and off to take the chill off.
The Glamping Pod comes complete with its own balcony, outside seating area and gas barbeque which is likely to be where you do most of your cooking.  And of course there's a fridge with small freezer compartment in the pod also to store your food.  A small on-site shop has some essentials and nearby Caterham is home to few supermarkets if you need to stock up on food.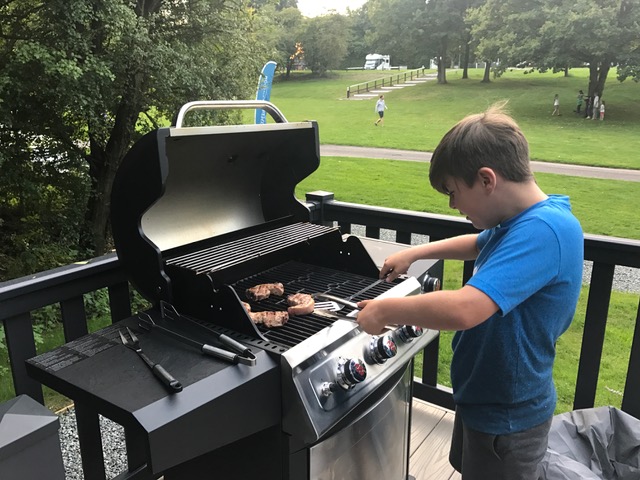 There were 3 Glamping Pods at Alderstead Heath and also 3 Yurts should a slightly different type of Glamping take your fancy.  Prices for the pod start from: £138 per stay*
*Minimum stay two nights. £138 price based on a stay between Mondays to Thursdays during low season (October 1st – December 22nd 2017).
Other locations in the UK where you could stay in a Glamping Pod are Abbey Wood (London) and Coniston in the Lake District.