Last year we were lucky enough to be able to take the boys to Florida for the first time, they were aged 3 and 5… I admit this is quite a young age to take the boys all that way as they won't be able to fully enjoy or even appreciate where they are…however they had a whale of a time and it just means that we will have to take them back in a few years time 🙂
I had a work colleague who owns a villa out in Florida (about 15 mins drive from Orlando)…lucky bugger and she rented it out to us at a very reasonable £350 per week.  One of the advantages of staying in a villa like this was that you were able to effectively stick to the homely routines whilst being on holiday…main one being the ability to sleep in separate rooms!  My mum and step-dad came along also, so we even had a few nights out on our own.
Before we left, we also organised the Disney passes as we were advised this was a much cheaper way of doing it.  I think if memory serves me correct we managed to buy a fortnight pass for the price of a weeks pass.
I don't know about you but whenever we go on holiday, I hate being restricted by public transport and much prefer to have the freedom of our own car, no matter where we've been Cyprus, Antigua and even more so in Florida, as a lot of the attractions we wanted to see where spaced fairly far apart.  So with that, we made sure we arranged our hire car before we arrived in Florida and simply pick it up at the airport…I say simply, it always seems to take forever when you're waiting to be given the car 🙂  We were given a Dodge Caravan which felt massive, but it was really good because it meant we could all go out together in the one car instead of taking two each time.
So, what did we do in Florida?
Well first thing was to of course visit Walt Disney World!  We went to the Magic Kingdom 3 times, we made sure we arrived at different times of the day each time round so we could catch different performances and attractions, like the parades, the night parade and then the fantastic fireworks.  The magic Kingdom was the best suited to the boys ages as they could more or less go on everything that was on offer…my favourites being the 4D Mickey Mouse cinema show and the Monsters Inc Laugh Floor, which was hilarious!
We headed to the Hollywood Studios also, this was little bit more restrictive due to some of the rides being unsuitable to take the boys, however we still had a great time and even got filmed for a Disney advert…I have no idea if this is or has been shown on TV!  The Hollywood Studios is probably most renowned for the Tower of Terror ride, having been on this before when I was a lot younger, I lined up (on my own of course) and went on the ride by myself, not as much fun but still good all the same.
We also headed to Epcot, which would have been the first time for me, this was good but maybe would have been better suited to older children, walking around the lake into each country was a little boring for the boys, but would have been enjoyable for the adults to have a little more time to take in each country a little more slowly.  However, they did enjoy a lot the park had to offer, especially the Find Nemo show.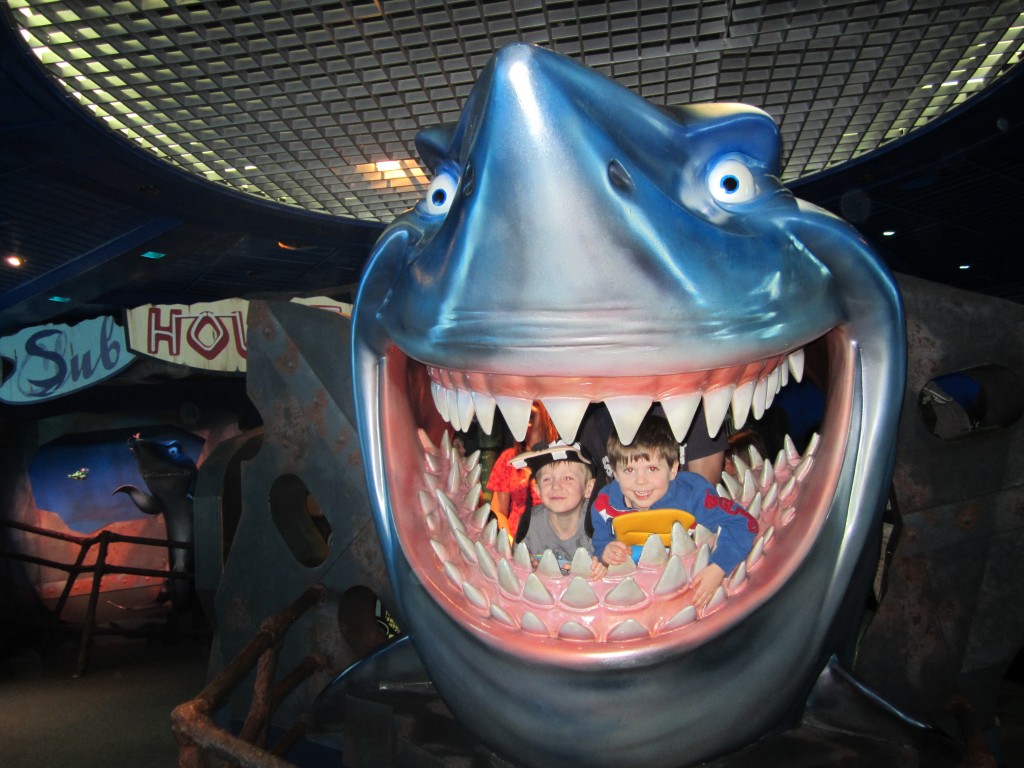 As with all the Disney Parks, I was impressed by the amount of characters we saw throughout the day, they just kept appearing everywhere we went!  The boys loved to watch from a distance, but it was a real struggle to get them to have a picture taken with them!  I managed to get the oldest to have his picture taken with Donald Duck, but he wasn't overly thrilled and had to have Daddy with him!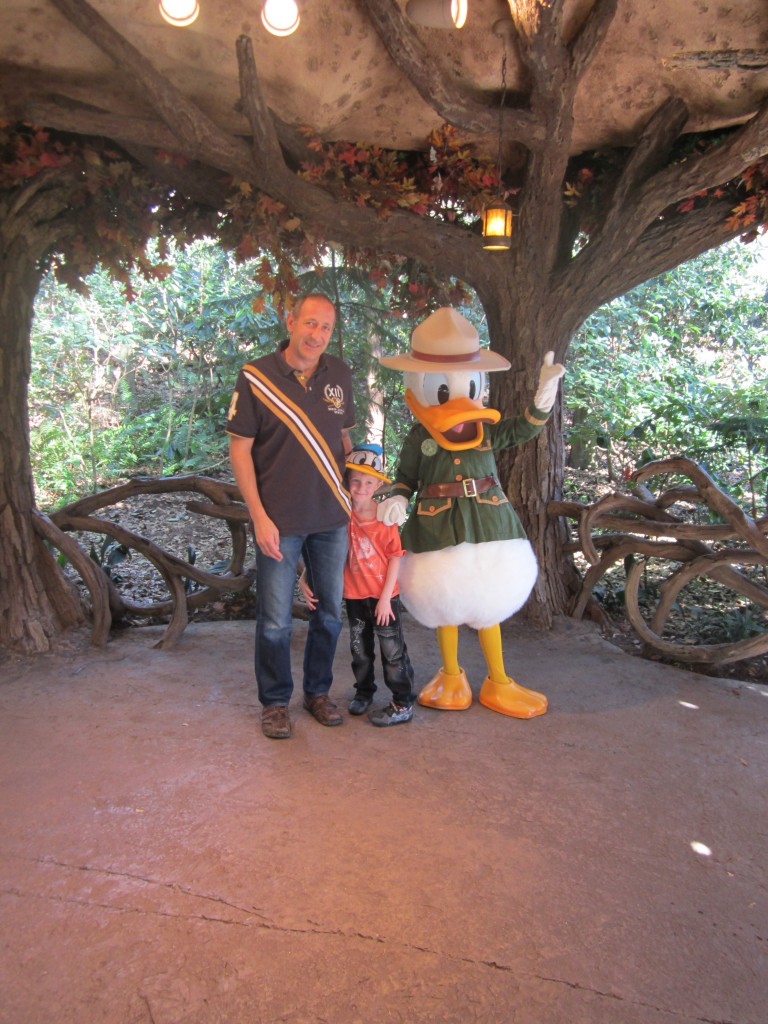 And this one with Woody and Buzz Lightyear says it all on youngests face!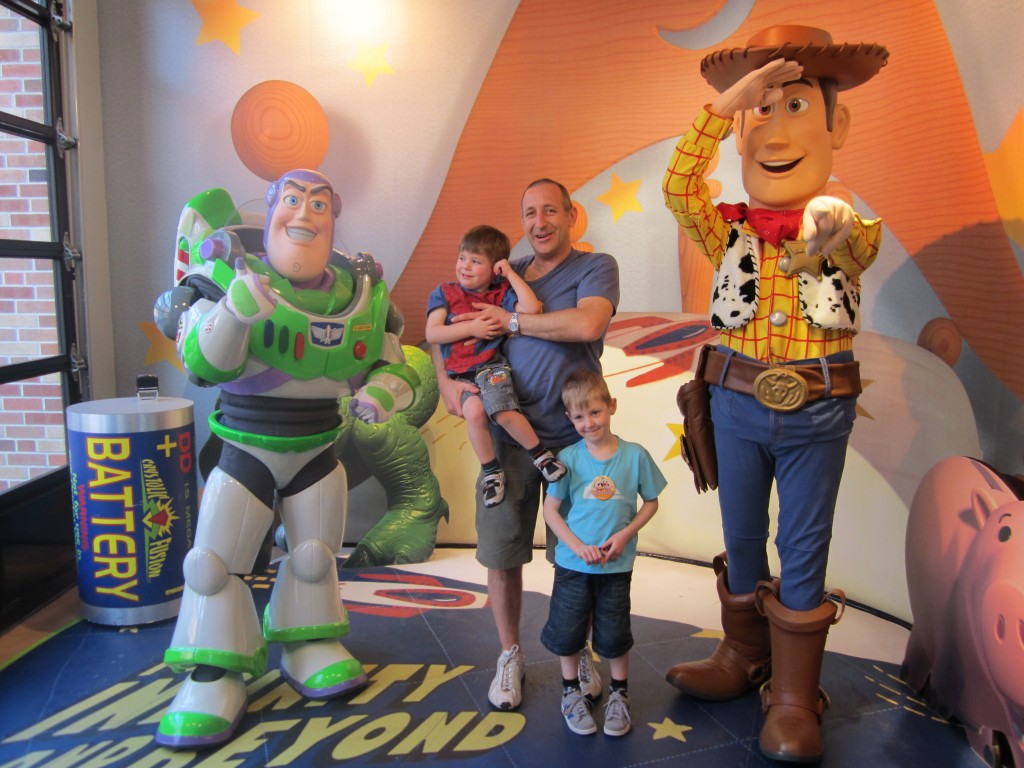 Along with the 3 main parks, you also now have Disney Animal Kingdom, now this was probably one of my favourite parks of all, it combines, animals, Disney characters and rides!  This also has its own parade too, which is well worth a watch.  I wasn't however overly impressed with Lion King show, there was a lot of hype over it and although don't get me wrong was good, it just wasn't the greatest.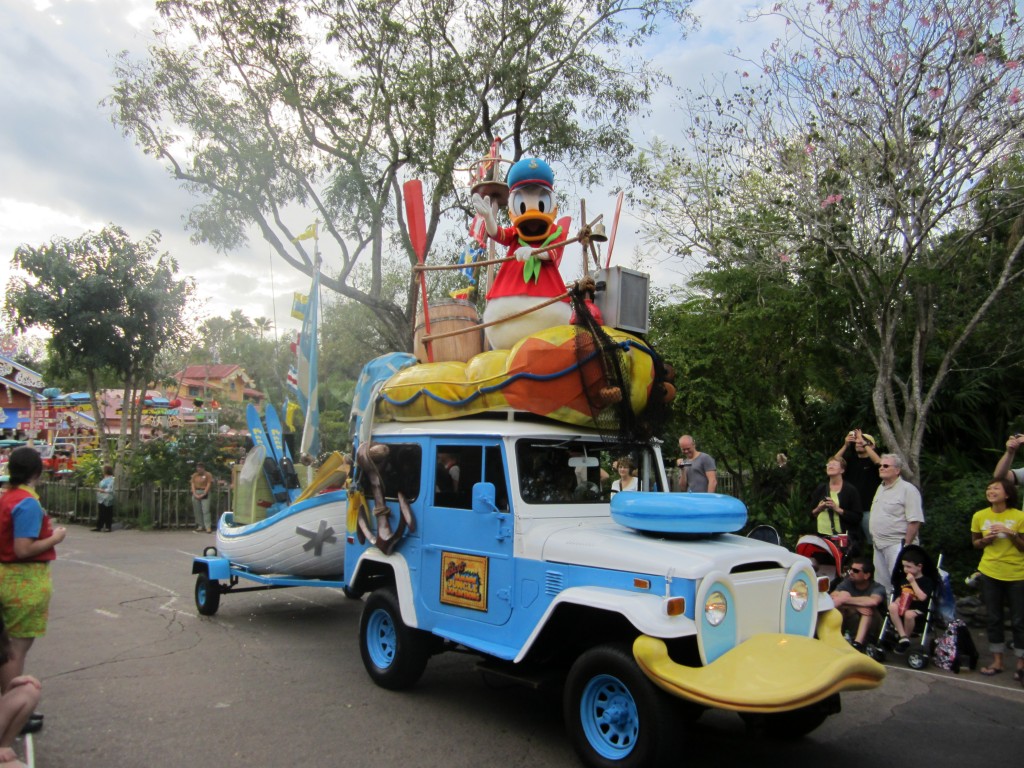 Due to the flexibility of having the hire car and also the pre-booked tickets, we were able to even visit two parks in one day and only pay for the one car parking ticket at $15.
Not forgetting the water parks that Disney has to offer, we decided to go to the Blizzard Beach.  The day was pretty overcast and with a threat of rain, the water park was amazingly empty.  I was surprised by how much was available for the boys to do, and seeing as though they were unable to swim, we managed to have a good day here….can't wait to bring them back here once they're brave enough for the big slides!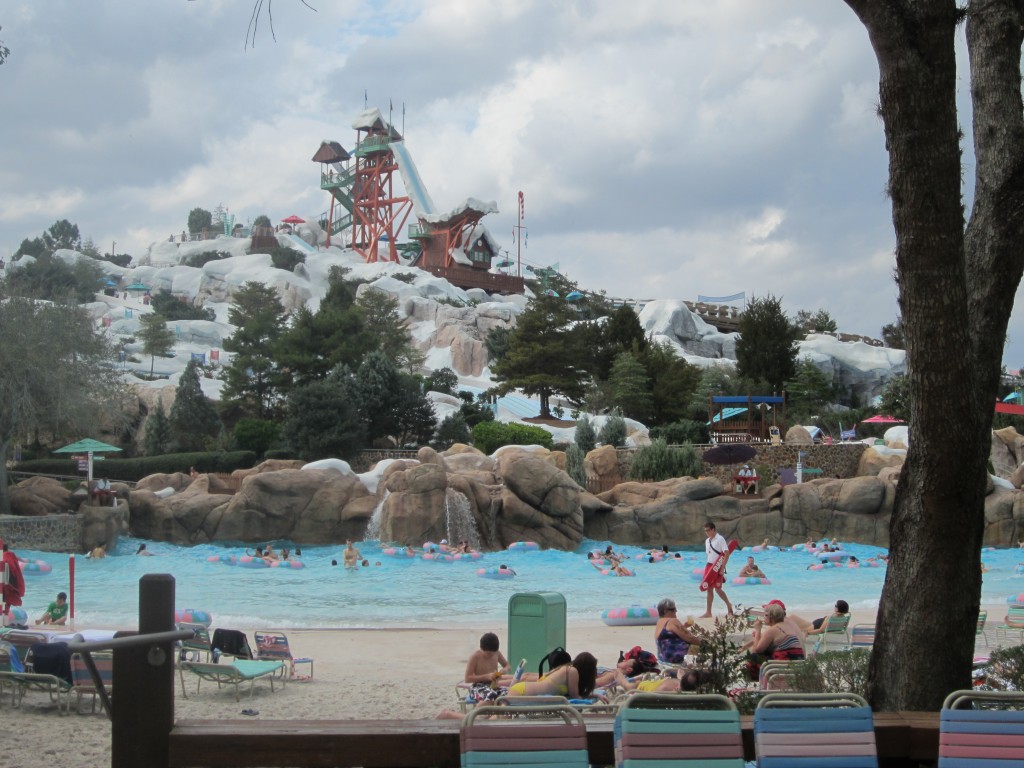 Also, if you're keen on shopping, head to Downtown Disney, the best thing here was the shop that was dedicated to Christmas!  The amount of stuff I wanted to buy was crazy, if only I could have another suitcase!!  We had lunch at T-Rex, which we thought as the boys loved dinosaurs, this would be a big hit…sadly we were not prepared for being seated right in front of a moving T-Rex!  The youngest spent most of the meal under the table!
So I think that's it for the Disney attractions we went to in Florida, next time I'll be sharing what we did asides from Disney!
Have you been to any of the Disney parks?  Favourite ones / rides?