On our final day in Asturias in Spain we headed into the National Park Picos de Europa to hike through the Cares Gorge starting at Puente Poncebos and ending in Caín (Ruta de Cares) with Birdwatching guide Javier from Birding Picos de Europa.
An incredibly popular and busy walking route in the summer months, the path was built as a service access for a hydroelectric project which takes water from a small dam in Caín following a canal for around 12km, ending at the hydroelectricity plant at Puente Poncebos.
Starting at Puente Poncebos we made our way up through the gorge for a steady hour on a well-defined path to Los Collaos, here we took a small break to try to catch glimpses of the wildlife, managing to mainly spot the circling griffon vultures above.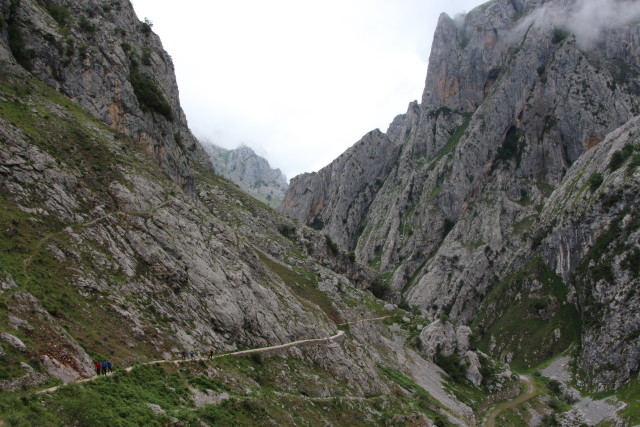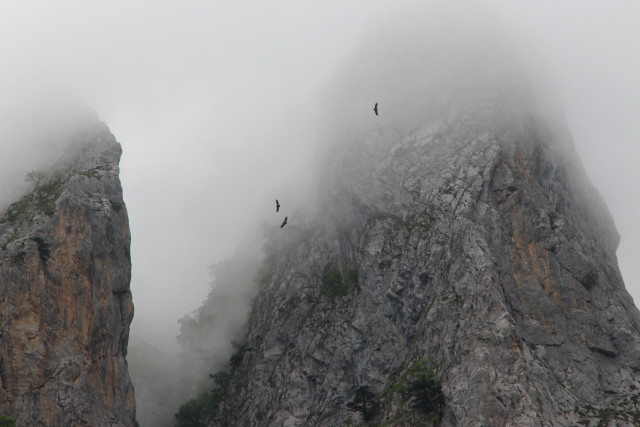 Other species of birds in the area you could see are golden eagles, short-toed eagles, black redstart, crag martins and the elusive bone eating lammergeier.  The lammergeier are a type vulture and are under threat, so in Asturias there has been a conservation project which has reintroduced a pair of lammergeier to the Picos de Europe park in the hopes that they will then breed and be able to grow the species, although Javier thinks they are currently in a different part of the park to the Cares gorge.
Moving on from Los Collaos the route heads deeper into the gorge and onto paths carved into the rock face.  Whilst the paths are fairly wide and you don't need to walk that close to the edge, when it's busy you definitely would need to tread carefully as there are sheer unprotected drops for the most part.  There's even one section where the path has crumbled into the valley below, there is a platform now which you walk along and a chance to step on a metal grate and look down towards the Cares river!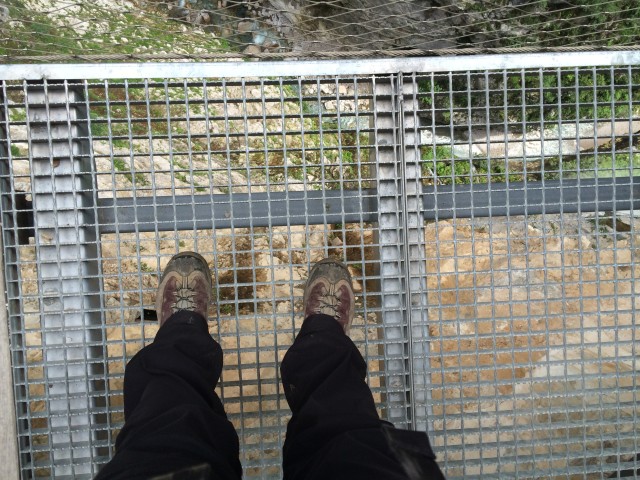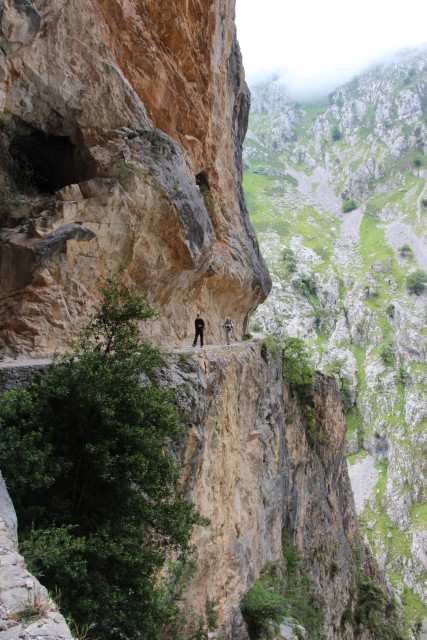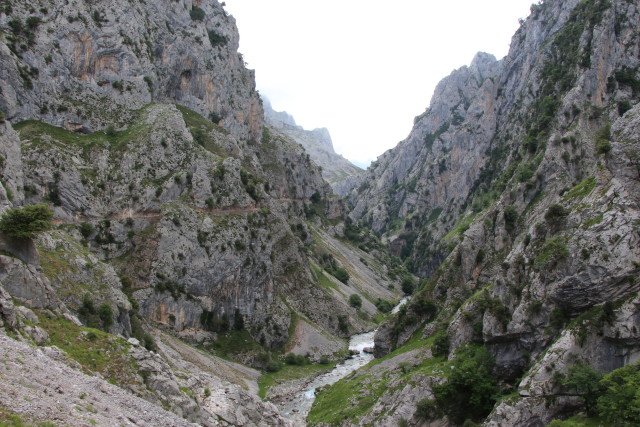 The Ruta de Cares is an easy walk with no technical aspects and an easy path to follow takes around 3 hrs (one way) if walked at a steady pace.  It's worth noting that in the summer time along with the heavy crowds it becomes a heat trap so make sure you take plenty of water as there's nothing available until you reach Caín.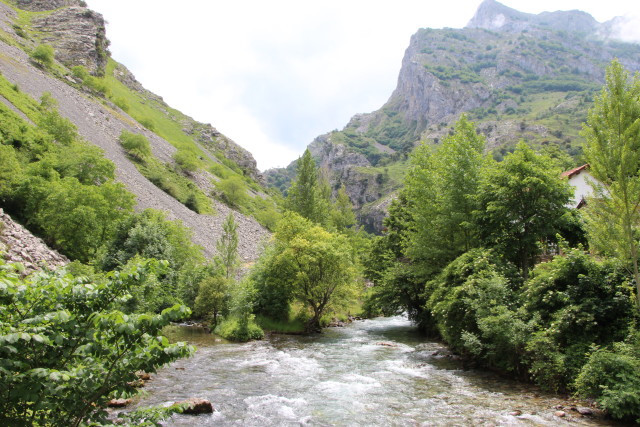 Reaching Caín you have moved from Asturias into the Castile and León region of Spain and here you are greeted with spectacular views of mountains.  In Caín there are small hotels and bars for you to take refreshments and taxis to take you back to Puente Poncebos if you wish as the only route back if you were to walk is back the way you came.  However the taxis are quite expensive for this reason.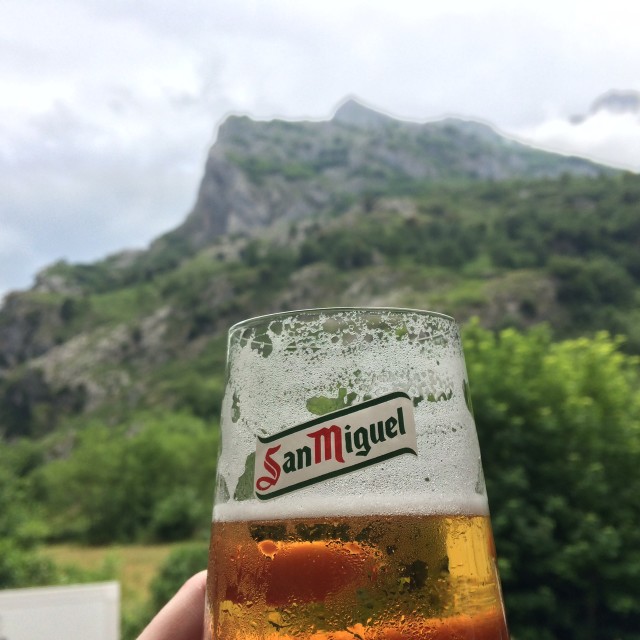 The drive back to the hotel out of Picos de Europa though was spectacular and gives you a glimpse of all the amazing walks or climbs to be had in the region.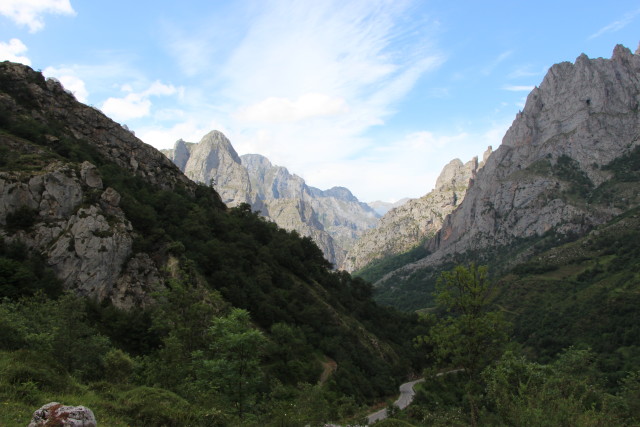 Many thanks to Javier for guiding us along the Ruta de Cares through the Cares Gorge and his outstanding knowledge of the area and wildlife, hiring a guide like Javier would cost around €120 per group.