I've already introduced you to the mad Poppy, now let me introduce you to my 4 cats..
The oldest is Marley, he's a long-haired tabby and 9 years old, he's incredibly vocal and very dribbly when having some fuss.  He also has a violent streak, if you dare stroke him beneath the neck area, then you'll probably leave with a torn up hand!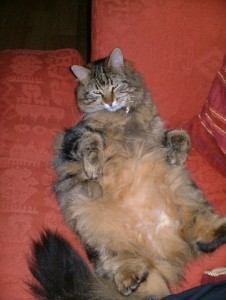 Daisy and Sky are sisters, both were rescued from a local cat welfare.  They are white tortoiseshell's, Daisy is long-haired whereas Sky is short-haired.  They used to be quite good friends….not so much now sadly, they can barely walk past each other without one having a swipe!
Lily is my newest cat, she's another rescue cat, and approx. 1 1/2 years old.  She was abandoned with a litter of kittens…luckily found by a dog walker and brought into the rescue center.  All her kittens were fine and have been re-homed too.  She's so incredibly friendly, it's hard to believe she's had such a rough start.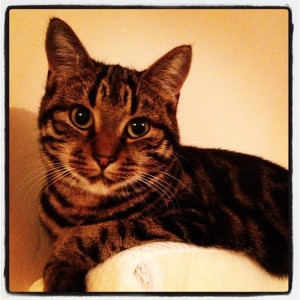 Apart from lots of tropical fish, this completes my pet family…
Just working on another dog, chameleon and ferrets….