Minecraft has really kicked off in our house this year, my two sons are obsessed with the pixelated game (as am I!), so it came as no surprise when my eldest wanted to have a Minecraft Party for his 8th birthday.
In the UK, Minecraft is only really starting to get picked up in the shops and so there was really no ready-made party items I could buy so I've had to research and make everything from scratch.  Pinterest was my biggest help in this case, you can search for ideas, see what other people have done and even get free invitation printables, which makes life so much easier.  I did find however that most of the ideas came from the US, so you just need to make sure you are able to buy the same items or similar if living in the UK.
Here's what I came up with and where I found the ideas from:
Minecraft Cake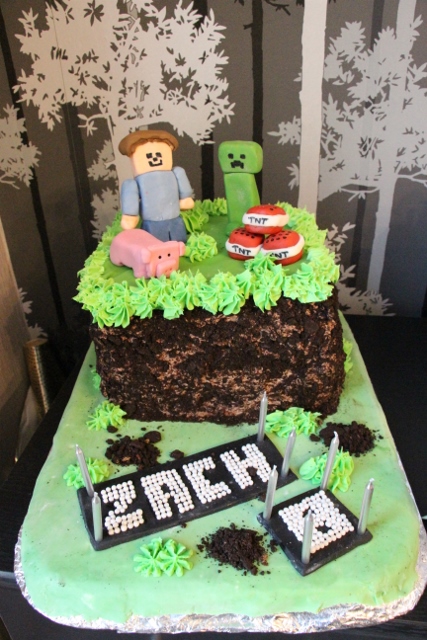 Although I consider myself to be a decent baker, my Aunt (from local catering company The Rustic Caterer ) is an even better one!  So she kindly baked and decorated this awesome cake for us.  I sent her some images through Pinterest and let her decide on which one she'd be able to do.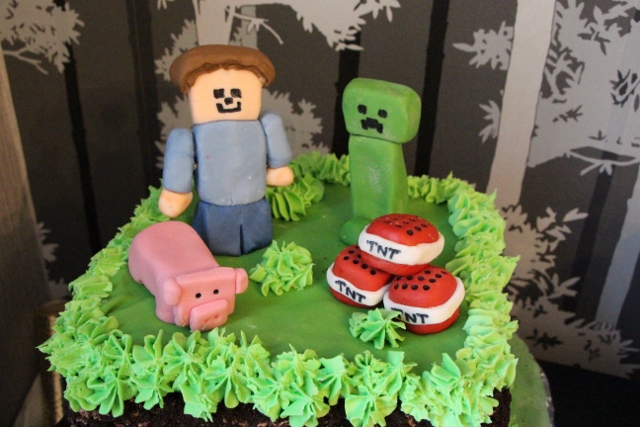 Inside the cake she even did a brickwork effect with the sponge in 3 different flavours, vanilla, milk chocolate and dark chocolate and she iced inside with chocolate buttercream.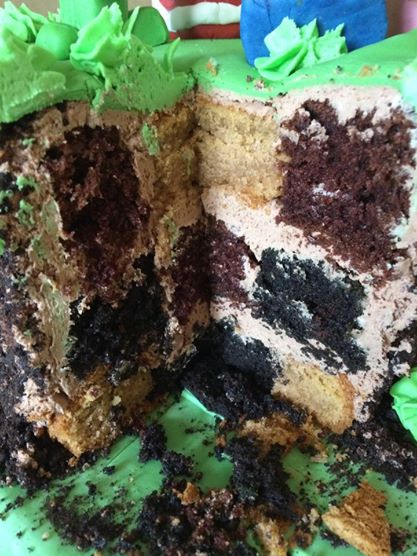 Minecraft Decorations
I didn't go too mad with the decorations as the party was set in our own house, but here's what I did do.
Creeper Balloons were hung around the areas the children would go.  On the green balloons, I made the Creeper faces with both black electrical and then also black permanent marker pen.  The tape looked slightly better, but the pen was a lot quicker!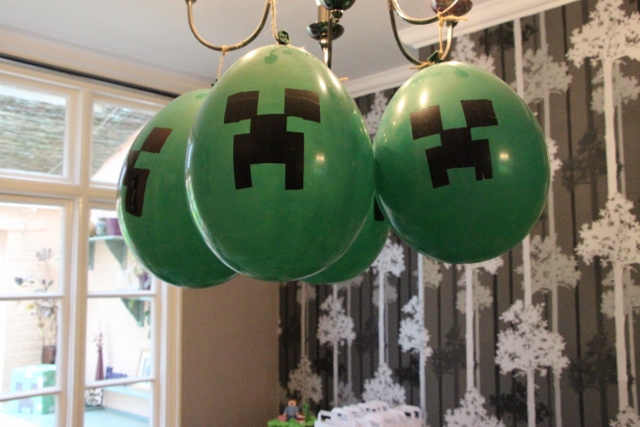 I then found an idea to make spiders, for this I had black balloons and black crepe paper strips and stuck red electrical tape on the balloon for the eyes.  The spiders were a big hit!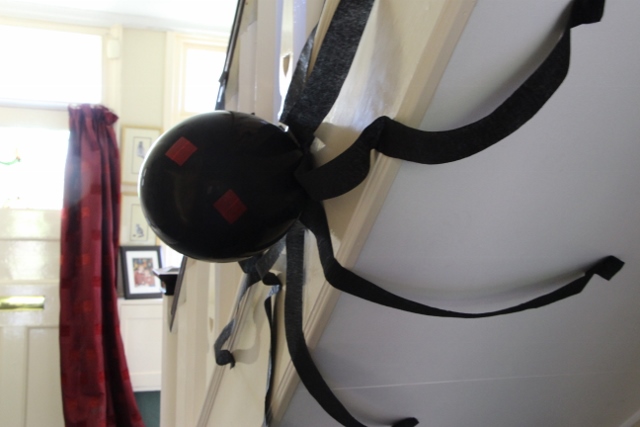 That was pretty much it for the actual decorations, I would have liked to have done some Ghasts and in an ideal world a big Creeper, but that wasn't to be this time.
Minecraft Food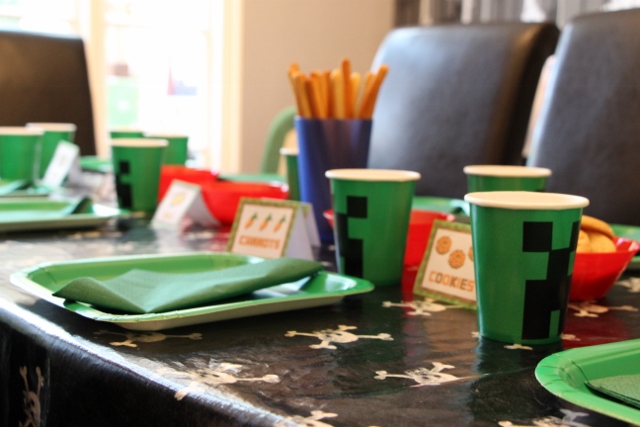 I really enjoyed finding foods that I could use to match the Minecraft theme, I could have gone mad doing all the foods, but as we were having a BBQ, I stuck with the basics:
Breadsticks – sticks
Cookies – cookies (obviously!)
Lemon drops – Gold
Carrots – carrots
Tropical Juice (should have been green but was more of a yellow) – Creeper Juice
Strawberry Jelly – Lava ( I wanted to also do 'water' with blue jelly but sadly couldn't find any here)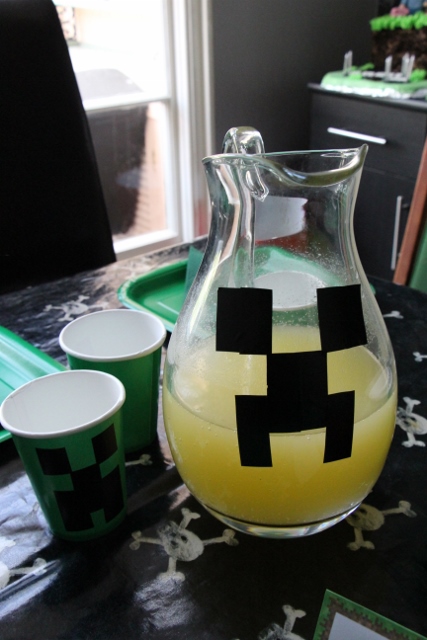 The table layout was mainly Creeper inspired with green paper plates, green paper cups with Creeper faces (electrical tape), green napkins and the juice jug also had a Creeper face on it.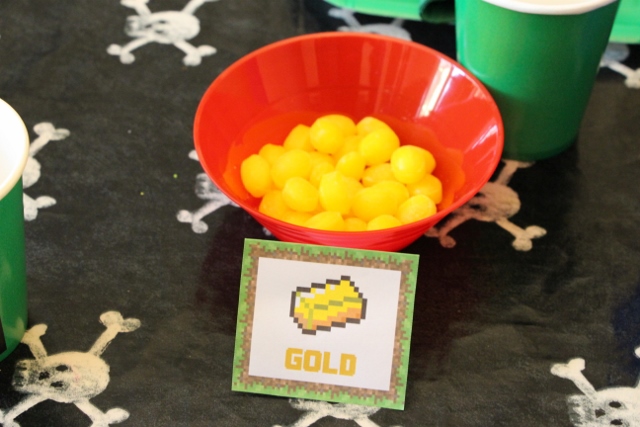 I found these printable Minecraft food signs to go with each food item which completed the look.
Minecraft Games
I decided to opt for 2 organised games for the party as I knew most of the time they would be spent playing in the garden.  I found these 2 games that looked cool and more importantly doable!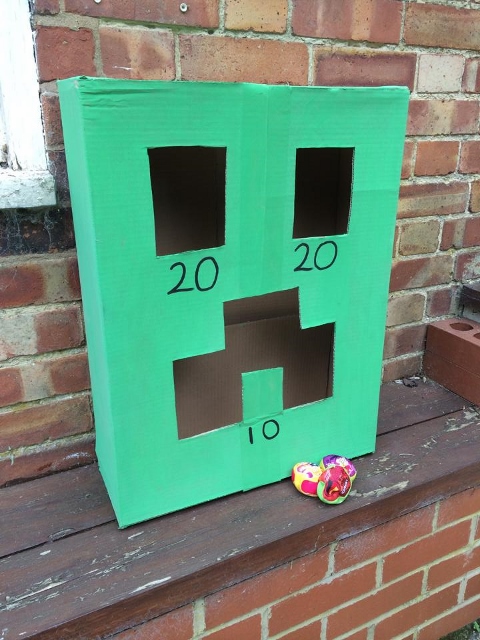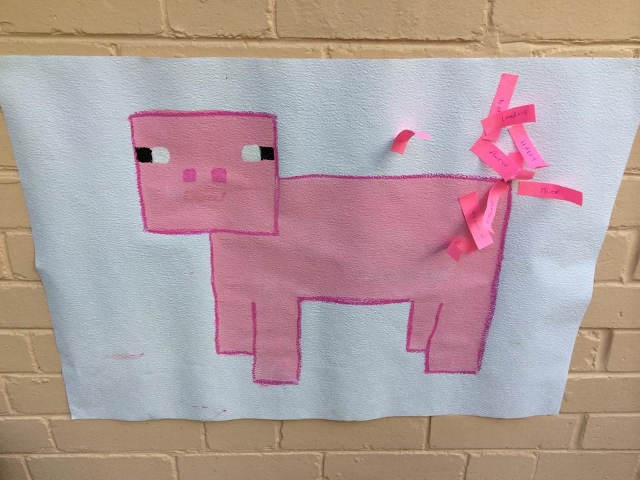 For this game we used a creeper head that I made instead of a blindfold.
Minecraft Party Favours
Lastly for the party bags, I found a few different ideas on what to make…
I bought plain white paper bags and printed off Steve heads to stick on like here and then for inside:
We made Minecraft heads from Hama Beads
We also made Minecraft bottle tops necklaces.  The images I bought off Etsy which you then print off onto photographic paper, and I found the necklace sets on eBay.
TNT – Strawberry twizzlers / laces
Coal – I made blocks of rice krispie cakes and dyed them using black food colouring, recipe here.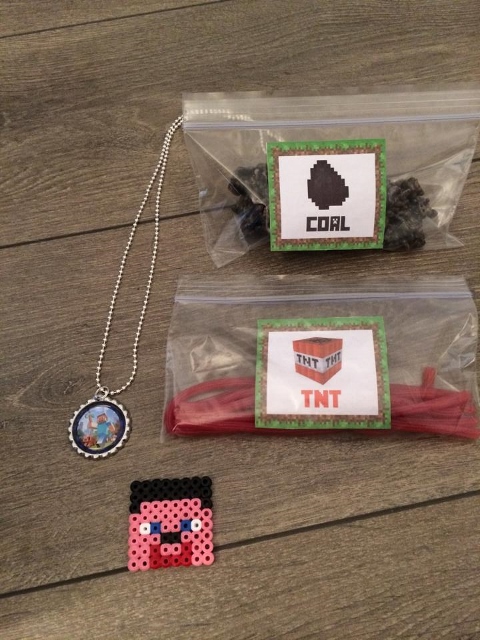 So that's it, it was admittedly more work than a normal party in an organised play centre or such like, but for all that I really enjoyed seeing the kids faces and their reactions to the Minecraft goodies I did.
Have you ever put on a themed party before?  What theme was it?