Having an 8-year-old along with an older sibling I've found that this year I'm finding that he just doesn't play with toys as much as he used to, the Lego and Nerf guns have stayed under the bed and especially with the winter nights, they seem to be more interested in going on their games consoles to chat with their friends, so trying to find presents that will encourage them away from their TV screens and offer some sort of interest has been quite challenging.  I have however come up with a few present ideas which I think will be a success!  Here's some ideas to help you if you're also stuck on what to get your 8+ old boy (all will of course be suitable for girls too):
Fright Factory Creature Creator
Create your own 3D creatures, from terrifying spiders to creepy scorpions.
The Fright Factory Creature Creator is the ghoulish way to make your own disgusting creatures. Pour the EwwGoo™ into a mould, place in the chamber, and turn the crank – you'll have your very own 3D creatures in just 3 minutes. Mix the gels together to create, multi-coloured beasties, bats and skeletons.
The Fright Factory Creature Creator is available at a R.R.P of £19.99 from Trends UK
Pokemon Monopoly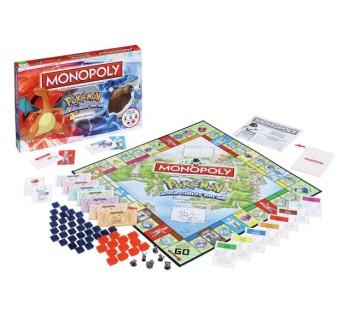 If your house has been hit with the Pokemon madness, then Pokemon Monopoly is a must for the present list of any 8 year old!  Travel through all eight gyms and battle all kinds of Pokemon in the Pokemon Kanto Edition of Monopoly. Buy, sell and trade with other trainers to collect the most powerful Pokemon team!
Pokemon Monopoly is available at a R.R.P of £29.99 from Argos
Discovery Kids 360° Super HD Microscope
41 piece set featuring a 60/120/200X magnification microscope with LED illumination, and an adapter for capturing images/video using a smart phone.
This high-definition microscope includes an adapter that fixes to the eyepiece – simply place your phone in the adapter, and activate your camera to view great images – you can even record them on your device. Microscope set also comes with everything needed to prepare and analyse specimen, including two prepared and ten blank slides, labels, tweezers and sample vials.
The Discovery Kids 360° Super HD Microscope is available at a R.R.P. of £59.99
Football Goal
It's taken a while but my 8-year-old has finally started to get properly interested in football, he plays at school and he's been to see his favourite football team (Arsenal) play.  Again I think it's been influenced by his older brother who has also started playing regularly.   So a football goal for the garden seems like the perfect choice for them!  Even though it's winter now, they do still go outside to play if the weather is ok so I have no issues in suggesting this as present that's going to get a lot of use all year round.
Football Goals are sold in many different outlets, but you can look to buy a decent one for around £30.00
That's a few of my suggestions on present ideas for boys aged 8+ but I'd love to hear what else you'd recommend, please comment below!