Do you leave your cat food down all day long?  Do you want to keep your cats food fresh all day long and safe from flies?  Then the revolutionary new pet bowl from SureFlap could be the bowl for you!
Introducing the SureFeed sealed pet bowl developed by Dr Nick Hill, a Cambridge physicist who also developed SureFlap.  If like me you haven't heard of these products yet, here's a brief insight into how it all started…
"After experiencing first-hand the unpleasant consequences of unwanted neighbourhood cats entering his home through the cat flap and terrorising his cat Flipper, Dr Nick Hill, a Cambridge physicist, set out to find a solution. He knew he didn''t want Flipper to wear a collar, so he developed a revolutionary technology that uses a cat''s existing microchip like an electronic door key, giving Flipper exclusive access to his home and leaving intruder animals at the door. After three years of intensive research and development, the SureFlap® brand was born."
After the success of the SureFlap, Dr Hill went on to design the SureFeed sealed pet bowl, here's my cat Whiskey demonstrating how it works…
The idea behind the bowl is that you can leave your cats food down all day and it's able to keep fresh and tightly sealed to protect from flies and also reduces unwanted pet food smells in your home.
The bowl is fairly compact in size measuring 235mm (W) x 210mm (D) x 73mm (H).
As standard you received a single grey bowl insert to use in the machine, you can however purchase different colours and even split bowls, should you normally serve wet and dry food to your pet. The bowl is removable to enable you to clean properly, but isn't dishwasher safe!  The lid is also removable so you can keep this sparkly clean every once in a while too.
As you can see when watching the video above, the bowl mechanism is pretty quiet and certainly didn't put off Whiskey from approaching the bowl, he got the hang of the bowl as soon as I put it down, but you may need to introduce your cat to the bowl gently.  To do this,  there's a button which keeps the lid open, once your cat is familiar with the bowl you can then switch this function off and let them try approaching and see how they react.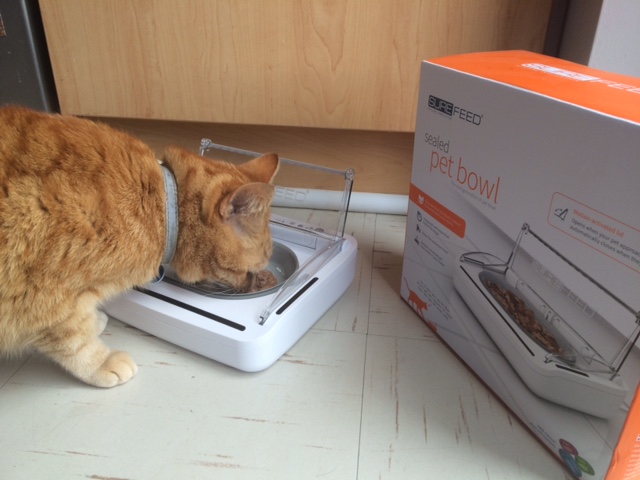 I really like the idea of this bowl and can see the benefit of having one in the household if you do leave food down all day for your pets.  It wouldn't be much of a benefit should you have multi-pets on different diets or if some are over-weight and you need to control their eating habits!
However, another invention from Dr Hill is another pet bowl which is great if you are a multi-pet household is the SureFeed® Microchip Pet Feeder (similar to the SureFlap), you register your existing pets microchip and the machine will ensure that food is only eaten by the correct animal. The feeder will help you tackle the problems of overeating or healthy pets accessing prescription food.
The SureFeed Sealed Pet Bowl is available to purchase at R.R.P £49.99 and is available on the manufacturer's website or you can find on many online pet shops.
*I was sent the product for the purpose of this review, all thoughts are my own.