Pretty much everyone I see these days wears a fitness tracker of some sort to track their steps and how far they've walked and now you can get an app on your phone which will track your dogs fitness levels and if you're reaching the right fitness levels for your dog.  After downloading the Pedigree Tracks app onto my phone, the first thing it asks you to do is register your dog, here they ask the breed, weight, age, fitness level and you can personalise it with their picture.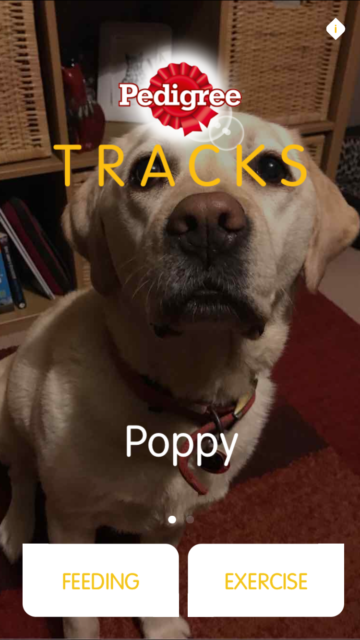 Once you've uploaded all the relevant data, you can then access what the app has to offer:
Tracking their activity
Now this is just an app on your phone, there is no device attached to the dog so it's mainly basically based on when you take them for a walk, you press start and off you go.  But there is however additional options for when you play in the garden, play inside and on and off lead walks.
Feeding Advice
If you need a little advice on what you should be feeding a dog of their size, the app can also assist you here also, and also advises on the best dog treats you could feed you dog.  However, if your dog is overweight you may wish to seek professional advice from your veterinary practice before making too many changes to their diet…and of course if your dog follows a special veterinary diet tailored for their health, again you should stick with the veterinary advice and what's best for your dog.
Check Up
A nice little addition to the app is to help you decipher if your dog is overweight or underweight, for example it asks you if you can feel your dogs ribs when applying a light pressure, depending if you click yes or no, it will take you onto a few more questions and advise you at the end if your dog has the ideal body shape.  If your result is not ideal, the apps first piece of advice is to seek veterinary advice which is a great and responsible response.
Overall this app is offering sound advice and is there to help you as dog owners give the best lifestyle you can to your dog, it's not solely promoting its own food or products, I'm pleased it doesn't push aside seeking veterinary advice where it may be needed and I can only see it as a benefit in aiding you.  With around 40% of the UK dog population being considered overweight, this app is only here to benefit dogs and help create a better healthier lifestyle.
Plus, the app is completely free!
"This post is a collaboration with Pedigree, but all thoughts are my own. For additional dental care information you can read the following Pedigree Reviews article for tips and advice."