Hen parties have become an essential right of passage for any bride-to-be. Whether it's meticulously planned by the bride herself or hastily organised by the chief bridesmaid, the hen do is a revered event that few brides want to avoid.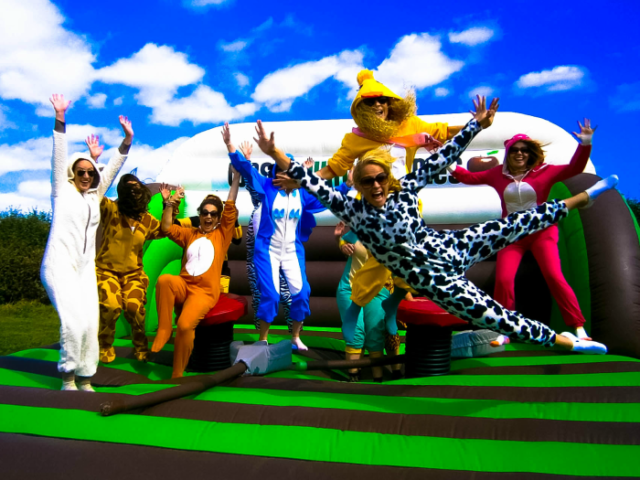 But there's one thing that 99.9% of all brides want their hen parties to be, and that's fun, with a capital F. If bringing together a group of potential strangers with little in common (save for the lady of the hour) is stressful, the pressure to ensure all parties are having a good time can be very daunting. (Especially if you have a real mixed bag of personalities). That's where these five fun ideas will have your whole hen party getting involved, and having a blast.
Centre Parcs, Longleat
Nestled in the heart of the Wiltshire countryside, Centre Parcs in Longleat Forest is a perfect short break for smaller groups of hens. Here, there's literally something for everyone. Book a short break in one of the quaint wooden lodges, equipped with every mod-con, and explore the hundreds of activities on offer. The swimming pool includes wild water rapids, a selection of stomach-flipping slides and wave machines – guaranteed to bring laughter to the most sombre members of the group. For those wanting something a little more relaxing, take a trip to the Aqua Sana spa, where you can book an array of indulgent massages and treatments. But be warned; Centre Parcs prides itself on being a family-friendly retreat, so overly raucous behaviour will be frowned upon!
West Country Games
For a wild, side-splittingly funny Bristol hen weekend, West Country Games is the perfect option. Located only a few miles out of the city centre, West Country Games offers a hilarious assortment of Somerset-themed activities, guaranteed to have the whole hen party rolling with laughter. Everyone gets involved with whacky games such as Cider Run, Welly Wanging, West Country Wipeout and Farmers' Showers, to name but a few. Such silly, good clean fun is a unique idea that'll certainly appeal to the spectrum of hen parties, in part because it includes all ages – and personalities.
Welsh Games
For an equally hilarious Cardiff hen weekend, look no further than Welsh Games. Only 30 minutes outside of central Cardiff, Welsh Gamespride themselves on making hen dos of all sizes hugely entertaining for all. Nine ridiculous, Welsh-themed activities will bring the entire group together. From Leek Duelling to the Rugby Run, Welsh Games will ensure everyone leaves with their sides hurting (from laughter, obviously!) and memories that will go down as legendry stories.
Murder mystery night
For a totally unique hen party with a sinister twist, book a table at one of the many murder mystery events around Bristol. Hens are encouraged to dress up and get into character as the murder unravels around them. Most of the events include actors who visit each table, giving the group the opportunity to question the key characters and try their hand at being a detective. This is a hilarious way to spend a hen evening, whether you choose to keep your suspicions to yourself or work as a group to solve the mystery and catch the killer.
Airhop
For a hugely entertaining group activity, hop on over to Patchway in Bristol and watch your hens bounce liked they've never bounced before! This laughter-inducing day out at 'The world's biggest trampoline park' features 135 connecting trampolines for your hens to bounce around on to their hearts' content. A great one for hen parties of all ages, the trampolines literally go up the walls and include slam dunk lanes, dodge ball courts and ball pits. And of course, with Bristol city centre conveniently located less than 20 minutes away, the party can continue with a well-deserved meal and a few glasses of wine until the early hours.