What if I told you that this particular competition is as easy as taking a picture?  Mountain Warehouse are giving you the opportunity to share your journey with just a photograph and you could be in with a chance of winning 2 flights to anywhere in the world, a family day out for four or £100 worth of Mountain Warehouse goodies!
Here's what you need to do…
1. Pick up a special trackable while supplies last from one of our participating stores.
2. Take a photo with the trackable whilst out geocaching.
3. Share on Facebook, Twitter, Instagram or Pinterest using #MWGeoTrail #contest
But hurry as the competition ends on 1st September 2017.
Maybe this cute little video will help explain a little more:
What is Geocaching?
Geocaching is essentially like a treasure hunt.  Admittedly I haven't done it very often but after downloading the Geocaching App onto my phone and realising there's literally millions of caches to be found I can definitely see the attraction!  After showing my 9 yr old that there was treasure to be found just up the road from us I managed to convince him to get dressed (Yes it's the summer hols and he was still in his PJ's at lunchtime!) and we took the dog and followed the map to find the caches.
Now from the looks of it, some are easier to find than others,in fact we found the first cache relatively easy, but we struggled on the second one and had to abandon our search and move on.
What's a trackable?
A trackable is something which has information enscribed in order for you to track its wearabouts, often it can be a dog tag or in the case of mine, a very cute moose 🙂 Once you have your trackable, you can leave in a cache ready for someone else to come along and take it and hopefully let it continue on its journey which you can track on the geocaching website.
Being new to the world of geocaching, it can take sometime to know what to look out for, and as I learn and discover new ones I hope to continue the treasure hunt for future caches at home and abroad!  But for now I'll say goodbye to by little moose trackable and hope to monitor his journey even after the competition has ended.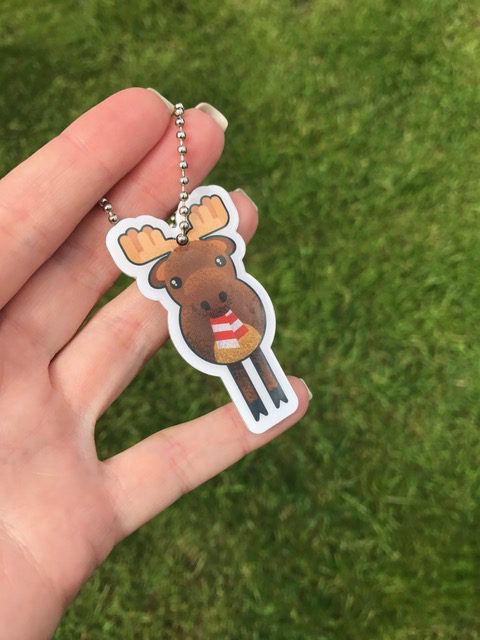 ***Terms & Conditions***
All T&Cs info can be found on https://www.mountainwarehouse.com/community/spring-time/geotrail-terms-conditions